Solid Wall / Floor Slab /
Sandwich Panel
Basic Version
Mold & Rebar Preparation

2 Axis Concrete Casting

Insulation Application

Casting Bed Carriage Trolley

Facing/Finishing/Curing Area

Tilting Table

Storage Area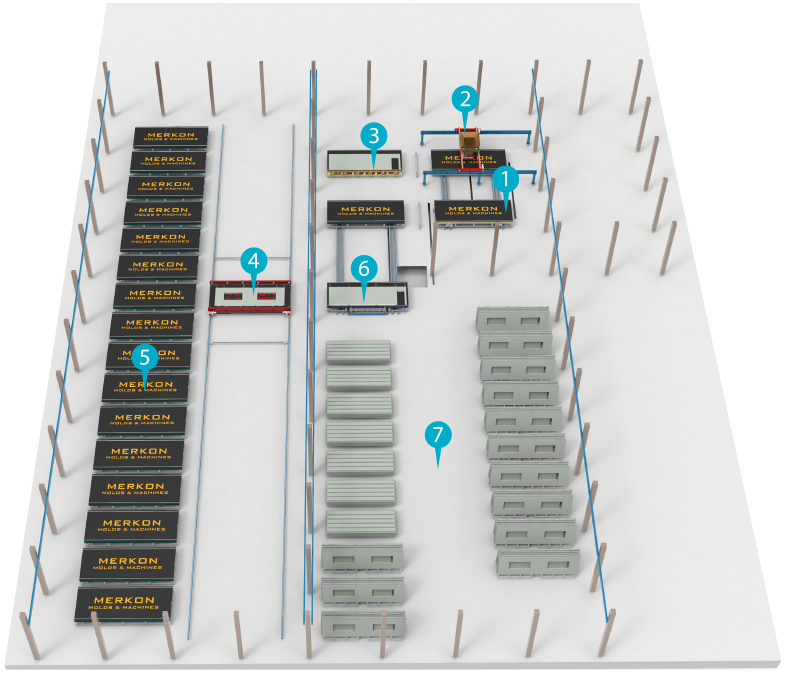 In the basic system of solid walls, magnetic separators and iron reinforcements are placed in the casting bed before concrete casting. They are filled homogeneously by the biaxial and multi-gate smart filling bucket and the concrete settlement is ensured by vibration. If the product is a sandwich panel, after the insulation plate placed on it, it passes through the iron reinforcement and concrete casting stations again. The products' surface on the bed, which is left to the area to be cured with the help of a special transport trolley, is faced where it is. By covering the beds, air contact is cut off and they are cured in a controlled manner.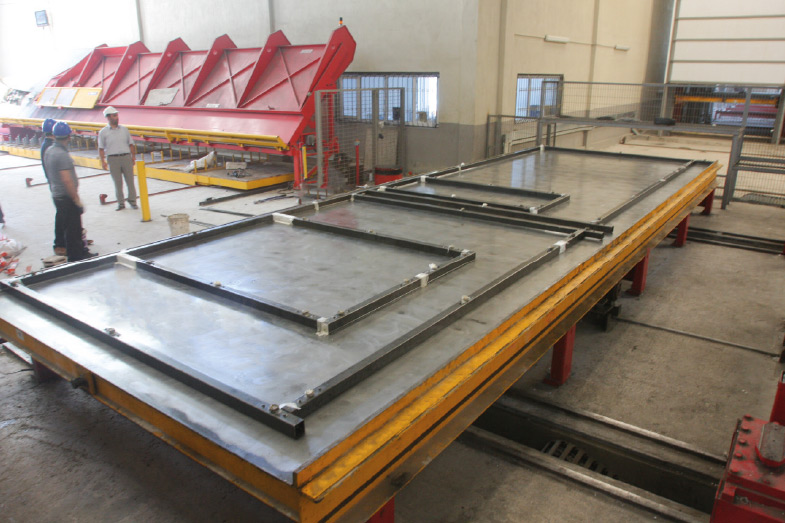 The cured casting bed, which is transported to the
production line with the help of a transport trolley, is brought to a vertical position at the discharge station and the products on it are transported to the stock area with the help of a crane. The bed is cleaned and repeats its cycle on the production line.
| | | | | |
| --- | --- | --- | --- | --- |
| PRODUCT DIMENSIONS | Max Lenght (m) | Max Width (m) | Max Thickness (cm) | m² on Pallet |
| SOLID WALL / SOLID SLAB | 9 | 3 | 15 | 27 |
| SANDWICH PANEL | 9,5 | 3,5 | 25 | 33,25 |
PRODUCTION CAPACITY
PALLETS PER HOUR
PER 20 HOUR DAY
DAILY YIELD m²
(80% efficiency)
YEARLY YIELD (m²)
(300 days)

SOLID WALL / SOLID SLAB

1

20

432

129600

SANDWICH PANEL

0,5

10

266

79800

Auto Rebar SOLID WALL / SOLID SLAB

2

40

864

259200

Auto Rebar SANDWICH PANEL

1

20

532

159600