Satisfactory cycle time,
down to 15 seconds

48 kN unmatched
vibration power

Product height range is
from 4 to 40 cm by standard,
optionally extendable to 50 cm.

Maximized profitability as
unit costs gets to the lowest
possible.
We are more than honored to present our one-of-a-kind block/paving stone machine Merkon 2036.
Merkon 2036 is a product of long years of research, development and knowledge. We have designed and produced this machine to suit to all types of users, by considering their needs, preferences and precious feedback. Merkon 2036 Paving Stone Machine has already become a favourite for its ease of use and accessibilty to deeper Professional parameters. The machine is ideal for production with thickness varying from 4 to 40 cm as a standard. Cycle time goes down to 15 seconds. The possibilities of production are endless thanks to the abilities, such as:
Adjusting vibration magnitute and variance
Rapid mold change by piston-locked tamperhead
1.4 m2 and 1 m2 production possibility options (blockpro pack standard)
Unsurpassed vibration power isolated properly from the robust structural frame
Hydraulic adjustment of the blades according to the tile thickness to be produced
With Merkon 2036, both finger car handling or pallets with legged can be preferred.
As for the control systems, Merkon 2036 is packed with features:
Remote access possibility that saves your time and energy
Electronic synchronization
Easily modifiable control of the automation system
Usage of Servo motors known for their reliability for intense and precise use
Servo valve usage for precise actions
Possibility to change the amplitude and angular positioning of the vibration weights
TECHNICIAL SPECIFICATIONS
| | |
| --- | --- |
| MERKON 2036 | Full Automatic |
| Production Time | 20 Sn. |
| Palet Size | 1150 x 1500 x 50 mm |
| Mold (Production) Area | 1 m2 |
| Minimum Product Height | 50 mm |
| Maximum Product Height | 400 mm |
| Total Power | 150 Kw. |
| Main Hydraulic Servo Motor | 250 Nm. |
| Servo Main Vibrator | 4 x 70 Kn. |
| Top Vibrator | 2 x 18 Kn. |
| Operating Pressure | 180 Bar. |
| Plate - Print Control | Linear Ruler |
| Mold Feeding Support | Jerky Grid |
| Rough Table Body | 1770x3250x20 Hardox 450 |
| Pallet Dispenser Capacity | 20 Units |
| Mortar Carts Control | Sensor |
| Mortar Carts Valve Control | Servo Valf |
A State-of-Art Servo Vibration design. Merkon's most impactive groundbreaker is one of its kind the unmachted Servo Vibration, has been a symbol for ultra-durable concrete products over a decade now.
Re-engineered of Tamperhead Table to ensure product surface quality and to protect vibration system from over loading. Heavy enough to generate vertical compress,
light enough to guarantee an optimal vibration power at each cycle, so it does maintain productivity all through the day.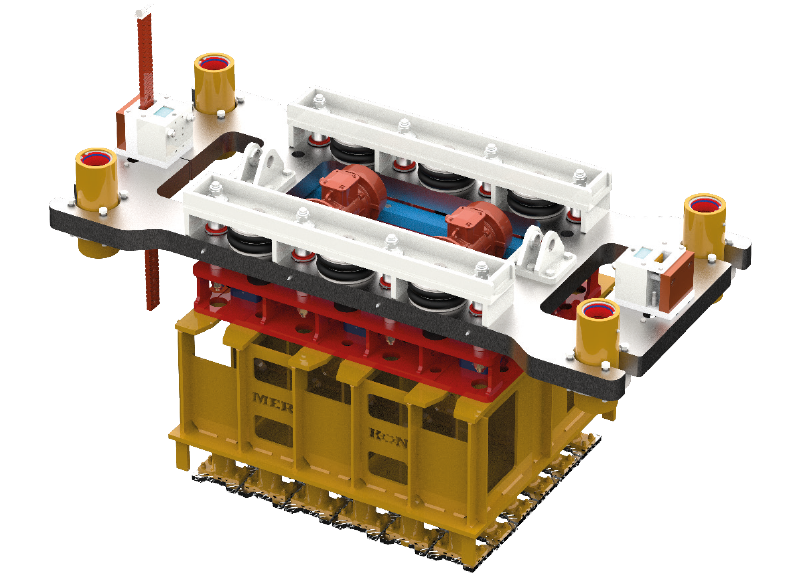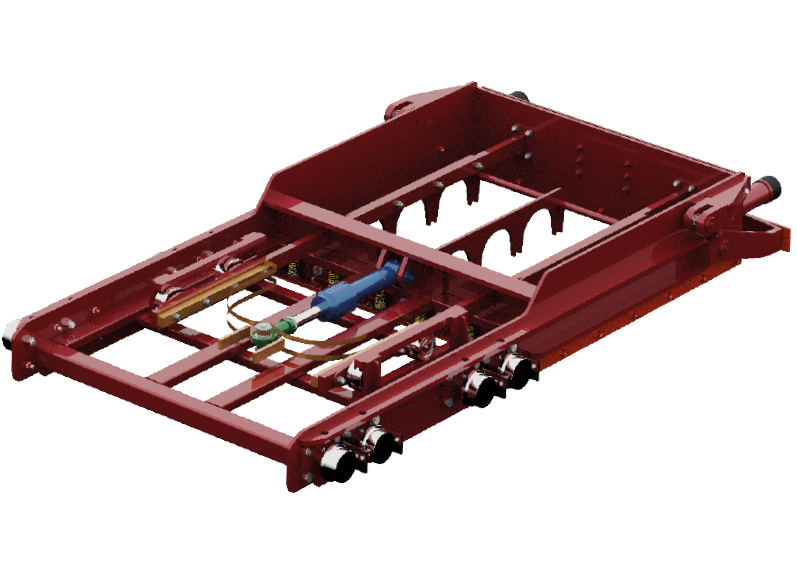 Hydro-driven Jerky system to respond the requirement of fast movements for filling process. Unique hydraulic design of 2036, returns as agility in the rapid movements like in the jerky system. Robustness of the movements brings quality for each wave.
Rapid mold change by piston-locked tamperhead, correct vibration delivery by Air Bellow connected female mold, true product height control by electronic rulers located along the main shaft movement. Milimetric quality is standard at 2036.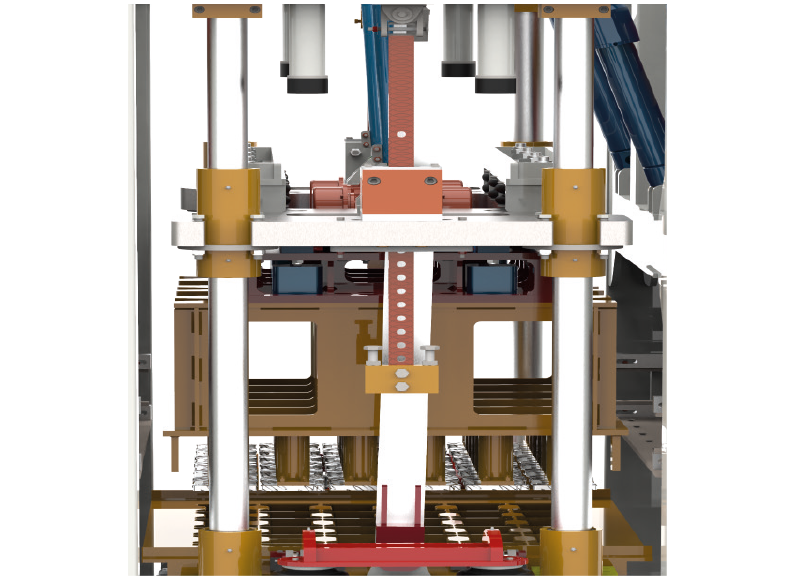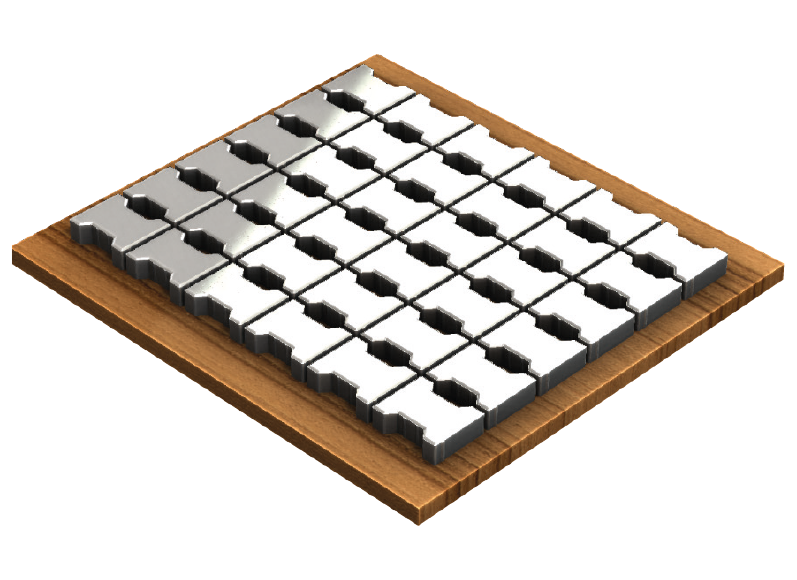 | | | | |
| --- | --- | --- | --- |
| INSTALLMENT | | YIELD M²/h | YIELD M²/Shift |
| 2036-L | 1 | 150 | 1200 |
| 2036-LX | 1,2 | 150 | 1200 |
| 2036-F | 1 | 180 | 1440 |
| 2036-FX | 1,2 | 180 | 1440 |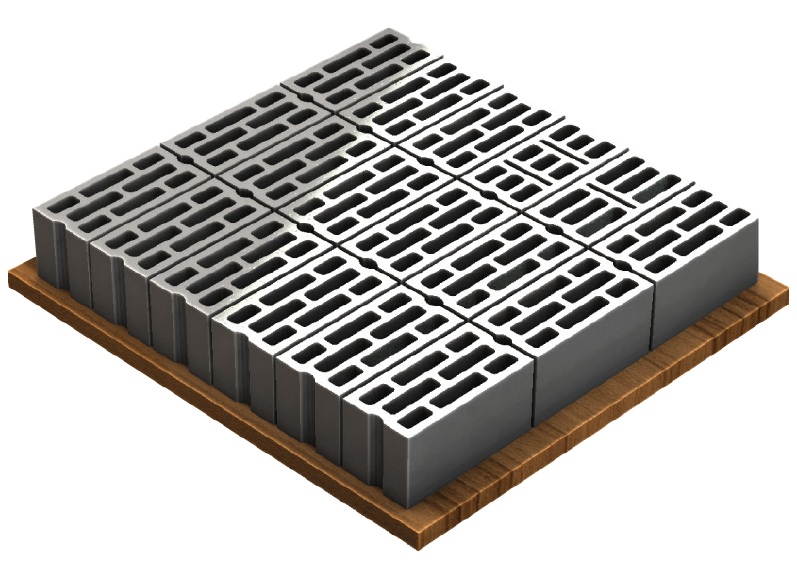 | | | | |
| --- | --- | --- | --- |
| INSTALLMENT | | YIELD Pcs/h | YIELD M²/Shift |
| 2036-L | 12 | 2500 | 20000 |
| 2036-LX | 18 | 3125 | 25000 |
| 2036-F | 12 | 2500 | 20000 |
| 2036-FX | 18 | 3125 | 25000 |
CURB STONE (12/15x50x30 cm)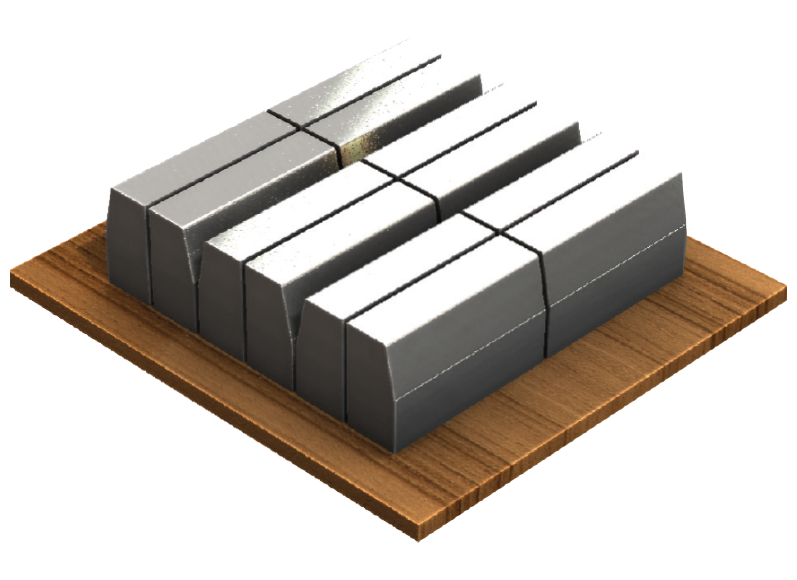 | | | | |
| --- | --- | --- | --- |
| INSTALLMENT | | YIELD Pcs/h | YIELD M²/Shift |
| 2036-L | 12 | 2500 | 10000 |
| 2036-LX | 12 | 2500 | 10000 |
| 2036-F | 12 | 2500 | 10000 |
| 2036-FX | 12 | 2500 | 10000 |